13.11.2019 | 1804
An industrial robot is a robot used in industry.
Industrial robots are manufactured, among other things by ABB, FANUC, IGM, KUKA, Yaskawa Motoman and Kawasaki Heavy Industries.

Content
1 Operation
2 Industrial robot tools
3 Programming
3.1 Tool center points
4 Advantages of industrial robots
Working
The robot has a certain mobility, for each workpiece it is to work with, the robot is provided with a suitable tool. A robot that is used to move a part to a mobile phone must therefore be partially rebuilt and reprogrammed when it is to move another piece.
Industrial robot tools
Some examples of tools for Industrial Robots;
Parallel grips, grippers with normally 2 fingers moving in parallel. Can grip internally by opening, and can grip something by closing.
Needle grips, a gripper with pins that can be pushed out, to grab something, and that can be retracted again to release. Needle grips are used to move, for example, textiles or foamed plastics.
Suction cups that lift workpieces using a vacuum require smooth surfaces.
Electromagnets for lifting metallic workpieces.
Programming
When programming robot movements, the robot's movement to different points is specified in a three-dimensional coordinate system, but this is entirely dependent on what it is for a robot, for example a robot can have completely different functions than moving in a 3D world. The coordinate axes are usually denoted X, Y and Z and there are six elementary movements in such a coordinate system: translation (rectilinear motion) along X, Y or Z rotation about X, Y or Z
Depending on how the robot manipulator is designed, it can perform some or all of these movements. This number of possible movements is called degrees of freedom. A robot with six degrees of freedom can perform all the movements. A robot that can only perform the three rectilinear movements has three degrees of freedom.
To program an industrial robot, there are two main methods:
Online programming, you run / "jog" the robot to different positions and save them. These are then "played", which is the program.
Offline programming (OLP), where you use an external program in a regular computer that is not connected to the robot to program the coordinates and movement patterns with "written" code. In OLP, there are mainly two program orientations and how to program. The first and oldest variant that requires a great deal of programming knowledge is a "simple" edit where you enter code by hand. The second and more modern uses a 3D environment where you model the entire robot cell. In the virtual environment you can then control / program the robot by "driving" the robot to different positions and storing them and also by writing code. The code you then get can then be downloaded to a physical robot.
The latter option goes hand in hand with robot simulation. under the name CAR, "computer aided robotics".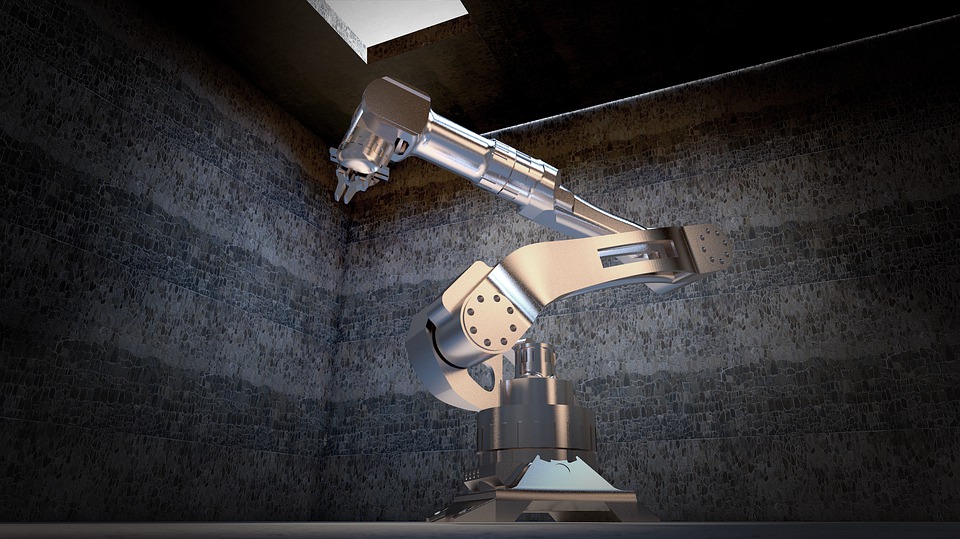 Tool center point
Tool Center Point (TCP) is the point on an industrial robot that does not move when rotating the tool and which the programmer has as a spatial zero point and reference point during programming. As a rule, TCP is located at a physical point on the tool, for example at the end of a welding nozzle, but may also be located at a certain distance from the tool. A robot typically has several TCP, for example for different tools, but only one TCP can be active at a certain time.
Benefits of industrial robots
The working environment for humans becomes better, since the robot can perform heavy, monotonous and dangerous tasks
The quality of what is produced increases and the rejection decreases, as the robot performs a process in exactly the same way every time
As robots are flexible and reprogrammable, the possibility of changing production increases
More efficient production at lower cost
Increased use of automated robots can reduce the number of employees in the industry.
Photos are taken from open sources

MachineTech Sweden AB has the technology and expertise to design a reliable, complete atomized equipment, and robot cells that provide an efficient production flow in your business.
Our strength is in our knowledge and all expertise gathered under one roof. The company has departments for sales, project management, design, programming, fabrication, and assembly.
Read more here 
Please do not hesitate to contact MachineTech Sweden AB in case of any questions info@machinetech.se
We can make anything what you need.
Machinetech Sweden AB -your partner from idea to finished product.
Let's do it now- start a partnership today!